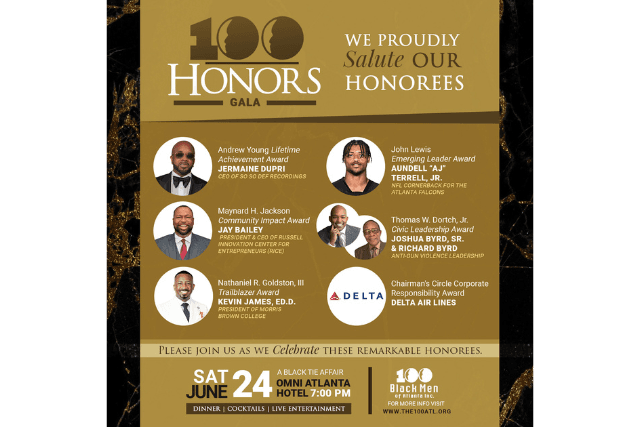 May 22, 2023 – ATLANTA… 100 Black Men of Atlanta, Inc. present the Honors Gala on Saturday, June 24 at the Omni Atlanta Hotel. The event theme is 'Empowering Our Youth.' This year, live and in-person for the first time since 2019, the highly anticipated Honors Gala returns to raise funds supporting 100 Black Men of Atlanta's mission of providing college preparatory services and mentorship to at-risk Atlanta youth. Ambassador Andrew Young and Billye Aaron serve as Honorary Co-Chairs. Led by event chairs Marlon Cousin, Imara Canady and Derin Dickerson, the black-tie gala recognizes those who have made significant contributions that align with the organization's mission. Google is the Presenting Sponsor.
100 Honors Gala – Awards & Honorees
Andrew Young Lifetime Achievement Award
This award is designed for someone who has achieved an unparalleled level of success and made a positive impact on the community by giving back and representing a group of underrepresented people.
Honoree: Jermaine Dupri, CEO of So So Def Recordings
Maynard H. Jackson Community Impact Award
This award is reserved for someone that has made a lasting impact on the community through charitable giving or community education on a variety of topics such as criminal justice reform, civic engagement, financial empowerment, health awareness or other areas that will leave the community a better place.
Honoree: Jay Bailey, President & CEO of Russell Innovation Center for Entrepreneurs (RICE)
Nathaniel R. Goldston, III Trailblazer Award
This award is designed to recognize someone that has made a lasting impression in an area or industry such as corporate America, education, entertainment, sports, or entrepreneurship and has opened doors in their area and paved the way for others.
Honoree: Dr. Kevin James, Ed.D., President of Morris Brown College
John Lewis Emerging Leader Award
This award is presented to an individual under 35 years old that has already begun to leave a lasting impact and represents the next generation of leaders with their character and work in the community or their professional accomplishments.
Honoree: Aundell "AJ" Terrell Jr., NFL cornerback for the Atlanta Falcons
Thomas W. Dortch Jr. Civic Leadership Award
This inaugural award was created to honor the legacy of the late Chairman Emeritus Thomas W. Dortch Jr., who also served as Chairman ex-officio of the 100 Black Men of Atlanta and Chairman of the 100 Black Men of America. The award recognizes an individual leading African-America youth as well as a leader in industry, education, or entrepreneurship. It specifically pays tribute to a member who has had transformational impact on African-American youth through programs and mentorship.
Honorees: Joshua Byrd, Sr. and Richard Byrd, Anti-Gun Violence Leadership
Chairman's Circle Corporate Responsibility Award
This award is designed to recognize a corporate partner for their philanthropic impact on the City of Atlanta and metro community.
Honoree: Delta Air Lines

Monies raised directly benefit student mentoring programs such as Project Success, The Robotics Program, Saturday School, Anti-Gun Violence initiative, educational field trips, the Collegiate 100 and more. Every dollar enables the organization to execute its mission, funding programs that drive the "Four for the Future," which are Mentoring, Education, Economic Empowerment/Entrepreneurship and Health & Wellness.
"As our organization's signature fundraiser, the 100 Black Men of Atlanta, Inc. relies on the generosity and support of our community partners, stakeholders and allies. Together, we can expand our impact by serving more children, growing our programs and increasing our presence. The youth of Atlanta need us," said Chairman Keith Millner.
Event details: https://100blackmen-atlanta.org/join-us-for-our-100-honors-gala/page.html

The vision of 100 Black Men of Atlanta, Inc. is to become the city's strongest, most self-reliant African-American volunteer organization focused on education, enrichment and empowerment. A non-profit organization, The 100 provides college preparatory services and mentorship to at-risk Atlanta youth. Civic-minded members dedicate their time and talent as mentors to help boys and girls break the cycles of poverty, under-achievement and violence that plague their communities, thus enabling them to seek their highest potential. Since its inception in 1986, 100% of the students who complete Project Success, the organization's flagship program, have graduated from high school and 80% have graduated from college in four years, far outpacing the national averages. Project Success is a nationally recognized post-secondary preparation, tuition assistance, and mentoring program for Atlanta Public Schools (APS) students whereby the 100 Black Men of Atlanta provides tuition-assistance scholarships for all Project Success students who graduate from high school. For more info: https://100blackmen-atlanta.org
CONTACT
Media
Hilary Bumm
hbumm@hopebeckham.com
(770) 294-2727
100 Black Men of Atlanta, Inc.
Louis Negron, Executive Director and Chief Operating Officer
Lnegron@the100atl.org
(404) 695-2757